About MH:2K
MH:2K is a powerful new model for engaging young people in conversations about mental health and emotional wellbeing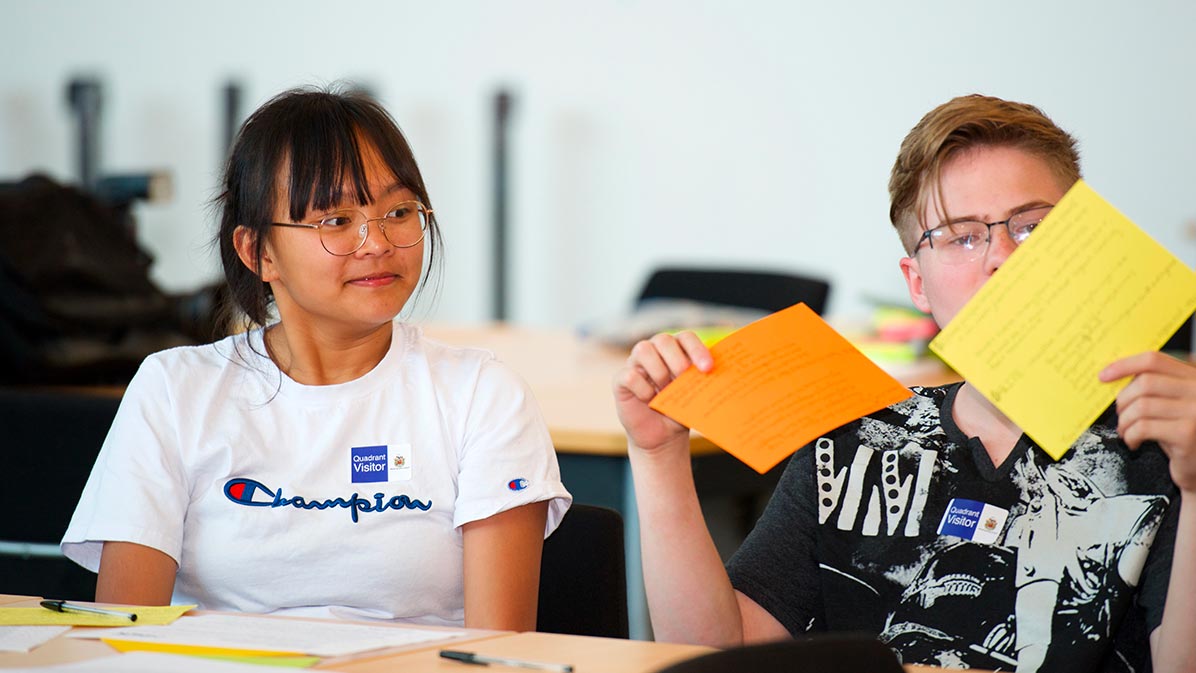 The recommendations presented on this site are the work of 127 diverse young people who co-led the MH:2K project. They are based on engagement events run by these young people with over 3,400 of their peers.
Together the recommendations paint a compelling picture of what a mentally healthy area would look like from young people's perspectives. They are a vital contribution to the work of decision-makers and researchers, both nationally and locally.
The MH:2K model
MH:2K is a powerful new model for engaging young people in conversations about mental health and emotional wellbeing in their local area.
Developed with funding from the Wellcome Trust and participating local areas, it empowers 14-25 year olds to:
Identify the mental health issues that they see as most important;
Engage their peers in discussing and exploring these topics;
Work with key local decision-makers and researchers to make recommendations for change.
Five diverse areas of England have hosted MH:2K to-date: Birmingham, Central Lancashire, North Tyneside, Nottingham and Nottinghamshire and Oldham. The local recommendations for these areas have had significant impact, influencing work including Local Transformation Plans, cross-organisational strategies and work in schools.
This site brings together our local work for the first time. MH:2K's national recommendations highlight the key themes emerging from local areas for national attention and action.
MH:2K's design
MH:2K is designed to benefit decision-makers, researchers, and its young participants. It follows the same seven-steps in every local area. The design has three key features:
End-to-end youth leadership: MH:2K's youth-led approach means it is grounded in the reality of young people's lives. Young people decide its focus, co-lead its events, and determine its findings and recommendations.
Peer-to-peer engagement: By empowering young people to reach out to their peers, MH:2K creates a safe and engaging space for participants.
Close collaboration with key decision-makers and researchers: By involving key stakeholders in the project from its start, MH:2K builds trust and enthusiasm. It helps stakeholders reach a shared understanding of the challenges they face and a shared commitment to action.
MH:2K's seven-step design is transferable. It could work in any UK local area. Since Autumn 2017, MH:2K has also had a National Advisory Panel.
Who runs MH:2K
MH:2K is delivered by a partnership of charity Involve and social enterprise Leaders Unlocked.
Involve is the UK's leading public participation charity, on a mission to put people at the heart of decision-making. It supports people and decision-makers to work together to solve our biggest challenges.
Leaders Unlocked exists to allow young people to have a stronger voice on the issues that affect them. It drives greater accountability and fairness by helping organisations to adopt new ways of working with the young communities they serve.
Funders and thank yous
We would like to say a big thank you to our funders:
Wellcome Trust;
Birmingham and Solihull Clinical Commissioning Group;
Chorley Clinical Commissioning Group, Chorley Council, Preston City Council, Preston Clinical Commissioning Group, South Ribble Borough Council, and South Ribble Clinical Commissioning Group;
North Tyneside Clinical Commissioning Group;
Nottingham City Council, Nottingham Clinical Commissioning Group, Nottinghamshire Clinical Commissioning Group, and Nottinghamshire County Council;
Oldham Council and Oldham Clinical Commissioning Group.
We would also like to thank North Tyneside Council for their support.
We would like to thank all our Local Advisory Panel and National Advisory Panel members.
Find out more
If you would like more information about MH:2K to-date, its national recommendations or future plans please contact us.
You can also find more information about MH:2K on the Involve and Leaders Unlocked websites. This includes its local findings and recommendations, advisory panel membership lists, and full evaluation reports.
Skip to navigation